Which MHA 1-A Girl Character are You?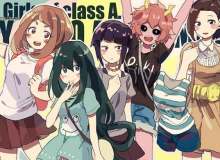 Attention MHA Fans (again). Welcome to the MHA Girl Character Quiz. In this quiz, you will see which of the 1-A girl characters you are. The characters in this quiz are: Ochaco, Tsuyu, Momo, Kyoka, Toruu and Mina.
Do NOT take your result seriously as this quiz is only for fun. It doesn't matter if you don't know that much about MHA, you can still have fun with other quizzes that I will make in the future. Enjoy!
Created by: Rosette-chan