Which Medicine Cat are you?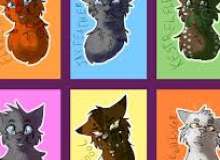 Welcome to my quiz, I am Jays Wing! My quiz is all about the medicine cats. Also i'm sorry if i don't have a medicine cat you wanted. Anyways, i'm also sorry to say you can't be JayFeather, Because that is me.
Enjoy the medicine cats, The cats are LeafPool, AlderHeart, BarkFace, LittleCloud, CinderPelt, And Mothwing! All of them took the path of a medicine cat to do well with herbs and wounds on other cats!