Which krew member are you mostly like?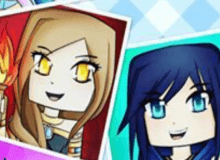 Hi again! Here's a quiz about itsfunneh and the krew, I hope you like it! I only make quizzes in my free time, so I won't be posting that much! Also this quiz isn't meant to insult anyone, so don't get offended by your result!
Itsfunneh and the krew are youtubers with different channels called Itsfunneh, Goldenglare, Paintingrainbows, Lunareclipse and Draconite dragon. If you haven't subscribed to the yet, then go ahead and hit the subscribe button!
Created by: Crystal