Which Horse Breed are You?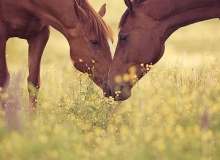 Do you love or like horses? Well if so have you ever wondered what amazing breed you are? You've come to the right quiz! What horse do you think you will be? Will you be the strong Clydesdale?
Or will you be the short Shetland pony? Who knows maybe you will be the fancy Morgan. Or the speedy Thoroughbred! There are lots of many breeds of horses. Which breed will you be?