Which Harry Potter House are You In?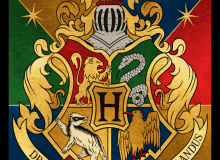 Have you ever wondered what House you would be in if you lived in the Wizarding World?Are you ready to don the Sorting Hat? Then step up, first years. Don the hat.
The Sorting Hat sings its song as you step up. It assures you it only has a few questions to ask you. It calls out, SLYTHERIN! as the student ahead of you dons it. What will it call for you?
Created by: Dragonjedi