Which Fnaf Character/Afton are you?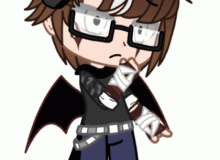 This is my remake of the first one so I don't know how good it is. Mind you I'm new to the setting up thing. I don't know if I'm doing it right. Please don't hate it.
I love FNAF and Chris Afton/ C.C (Crying Child) are my favorite. Should I make more quizzes? Let me know with a comment. And let me know what it should be about.
Created by: Willowtailkit