Which Encanto character are you?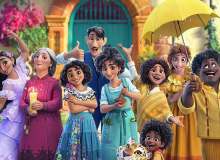 Hi! Encanto is THE BEST FILM EVER TO EXIST!!!!!!!!!!!!! So I made a quiz to see which character you are! Sorry that there isn't all of the characters though.
But anyway... if you haven't watched Encanto WATCH IT RIGHT NOW and if you have watched it... WATCH IT AGAIN!!!!!!!!!!!! I've watched it 6 times and I'm gonna watch it for a 7th... and 8th and 100th!! Enjoy the quiz!
Created by: ilovemermaids