Which Dragon Of The Elements Are You?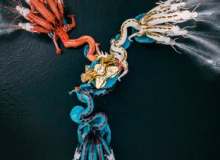 Hi! It's me again,sooo. This is my second quiz, my first one was called Which Warrior Cat Are You? I think I'm beginning to have an addiction with making quiz's(Like my sibling's Minecraft addiction.)
Also, thanks to SprinkledSpice for the comment in the other quiz I made. This quiz is about which dragon of the elements you are. You can get fire dragon, water dragon, earth dragon or air dragon. Sorry if this quiz is inaccurate, have fun!
Created by: Silverflame