Which Of The Four Elements Best Matches Your Personality?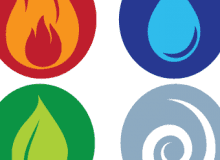 Which of the main four elements are you? Are you creative enough to be water? Practical enough to be earth? Imaginative enough to be air? Or brave enough to be fire?
No matter what you get you will always be you, and all of the elements are wonderful and inspiring. Have fun and remember to rate and comment on what you got! Enjoy!