Which Doki Doki Character Are You?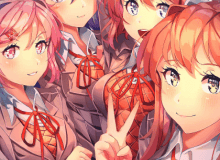 What Doki Doki Literature Club! Character are you? This quiz might be inaccurate, and it most likely will be. Check the warnings below before taking this quiz. ⬇
WARNING ⚠: There are spoilers in this quiz. Some characters that you may get the result of have mental disorders. I am not diagnosing you with these mental disorders. There are mentions of death. You have been warned!