What "The Flash" Character Are You?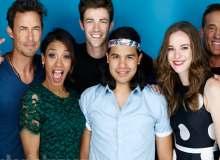 This is a quiz to see what "the flash" character you are there are 15 questions and please don't get made about who you get its just a quiz. There are 8 possible people you could get.
This quiz is just for fun it doesn't matter who you get I went off of personality not looks. Don't get mad if who you wanted is not on here I only put 8 characters on here there is a good chance you won't get the person you wanted.(Wally West Is Definitely Not On Here).
Created by: Maleah