What Riverdale character are you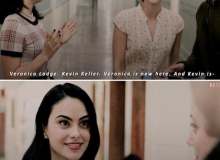 Hi, this is a quiz about who you are if you were in Riverdale. Will you be Betty? Archie? Jug? Roni? Or Toni and many many more!!!
My favourite characters in Riverdale are Cheryl and Toni. I also like Roni!!!!! Whose your favourite character maybe you are so much like them maybe that's why you like them? Take this quiz and find out if you really are like your favourite characters!
Created by: cherylbombshell