What Johto starter Pokemon are you???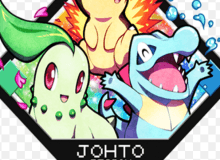 Hey guys! It's Dovewingfan again! And I'm here with my second Pokemon quiz! This one is also a starter quiz, but this one's for the Johto region. It's still the same concept thou.
Anyhow, like my previous quiz, this one will tell you what starter Pokemon you are. You are ethier Chikorita, Cyndaquil, or Totodile. The quiz resilts may not be accurate, but i made it just for fun.