What is your wolf name?!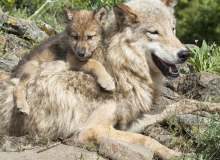 find out what your wolf name is, and some about personality and rank! you can be loner, alpha, female, or male!!!! do you have pups, a mate, ect. have fun deciding what your name, rank, and personality is!!!
i really hope you have fun!!! post your results for others to see and tell what you want me to change!!!! we all know that wolves are great, so enjoy!!! THANKS!!!!!!!
Created by: kaitsparrow