What Is Your Skywing Name and Personality?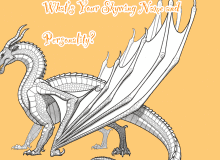 Hello! Thanks for taking my quiz. This is based on the book series Wings Of Fire, by Tui T. Sutherland. If you like dragons and Wings of Fire, then you'll probably like this quiz. I'm sorry if you don't like your result, or if it isn't accurate. I tried my best.
If you aren't sure or don't have an answer to any of the questions, please feel free to skip them. I'm also not trying to offend anyone with the results or questions, they're just things I made up. Other than that, please enjoy the quiz!