What is your ideal pet?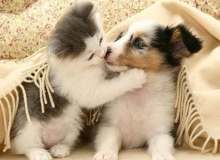 Pets are a wonderful way brighten our lives and those of animals.All over the world there are millions f homeless animals living life the hard way.As the most advanced species on the planet,don't hesitate to help the hungry critters.
Are you looking for a pet?Don't know which to choose.Well this quiz will help y with this be honest and you'll soon find out which pet is best for you,Mr.Cat or Mr.Dog.
Created by: Quizzer