What Fnaf animatronic are you?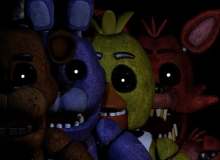 Hello everyone, this quiz will tell you which Five Nights at Freddy's animatronic you are. I hope you enjoy! Also this isn't every Fnaf animatronic, just the first Freddy, Bonnie, Chica, and Foxy.
I don't know what else to write so I will just tell you that this is my first time trying to do this and it took a long time so please just put your REAL opinion down.
Created by: Kalen