Vormaerz Political Compass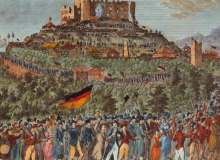 Napoleon has been defeated, but his ideals remain in Germany. Together, the German states have defeated his attempt at European hegemony. The German people have had a taste of freedom under the liberal Bonaparte, and they also learned how much they can achieve together.
With ideals of freedom and unity becoming ever more popular, change seems to be on the horizon. In this period preceding the 1848 revolution, called the Vormaerz, progressive student fraternities (Burschenschaften), the gymnastics movement (Turnbewegung) and many intellectuals are radical believers in change, while the wealthy bourgoisie (Bürgertum) is more moderate, and the reactionaries and conservatives, who lead the new German confederation, wish to turn back to simpler times. Which faction can you identify with?
Created by: AntimasonicAction of My Twitter
(your link here more info)