Test Your Equine Knowledge!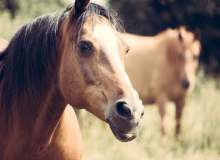 This quiz is for those who are bored, want to learn, or want to test their knowledge! I hope you enjoy this quiz, I spent my whole morning on this. Yeah.
Horses, you say? You've come to the right place! How about taking this quiz and testing yourself? You might learn some new things, or you'll just find out that that one article you read was completely false. Sucks that you used it for your report.
Created by: EquineFreak