So You Think You're Ready To Own Guinea Pigs?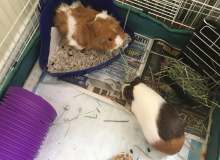 So you think you're ready to own guinea pigs? Let's put your skills to the test! It's better to be ready than be stuck and puzzled once you get your guinea pigs.
So take this quiz! Learn the truth about if your ready to get guinea pigs! Don't worry if you get a bad score! You tried! It's best to learn about this animals as much as you can!
Created by: Tri3123 of Trisha's Guinea Pig Adventures: My Blog
(your link here more info)