Should you get a pixie cut quiz?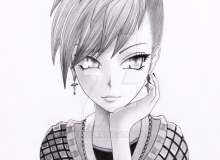 Pixie cuts are amazing haircuts. They show that you are brave, and don't care what others think of you. After you get a pixie cut you feel so confident and it's so awesome!
Scroll down below to see if YOU should get a pixie cut!! :D Disclaimer: Don't take this quiz to seriously. In the end it's your hair and you can do whatever you want to it. And remember, hair grows back.