Should you adopt an AmStaff or a Pit Bull?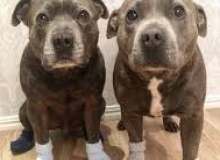 Hello friends!Guess who it is.Yep,it's CelestiaRULES!!!!I made this quiz called Should you Adopt an AmStaff or a Pit Bull?These dog's are one of the most aggressive dogs.They are often misunderstood!But I think they are cute.I have an AmStaff at home!!!
I love Amstaffs I love PitBulls!Did you see the quiz image?Its sooo cute right?That is an AmStaff doggy and that is my dog!I can not stop looking at it..It is sooo cute I think people will just click on this quiz because of the image!!!