Playing Fall Guys (W/Sister Sonic Tails Shadow)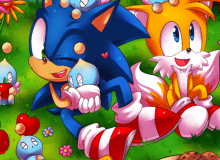 Me/K: I hope you enjoy! Sorry about taking a while with quizzes! It's just cause I've been working on lots of quizzes and I'm not on my laptop. Anyway, ENJOY!
Me/K: Hope you like this! I love Fall Guys and me and my sis have been bored so we decided to make this. She will be in future quizzes too so we can't wait to put them out!
Created by: Sonic Tails Lf