How well do you know UNDERTALE?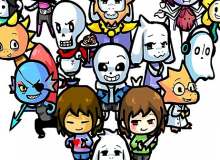 Hello and welcome, Undertale lovers and fans, to my quiz! Undertale is a great game, but do you know all of it's secrets? I hope you enjoy the show!!!
There will be three levels: Easy, Medium, and Hard. Each will have four questions, (Except for the final one) and there will be only one answer. I hope you enjoy!