How well do you know Nerf?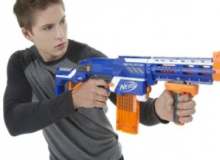 It's Nerf or Nothin'. This quiz is all about those lovable and colourful foam dart blasters that everyone has a great time with, that in reality are really violent weapons in disguise.
This is a trivia quiz and don't expect the questions to be easy as this is meant for real Nerf fans who know more than just how to fire a blaster or know the names of a couple.