How Well Do You Know "Hello Kitty"?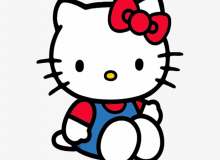 Hello Kitty is a fictional character created by the company "Sanrio." This character was created by Yuko Shimizu, and designed by Yuko Yamaguchi. Hello Kitty is very well known, and practically a principle aspect of Japanese pop culture.
Do you think you know everything there is to know about the beloved, fictional sensation, Hello Kitty? This quiz will test your knowledge of Hello Kitty's origins, history, and even her personality.
Created by: Jayfeather310