How Much Do You Know About The Riordanverse?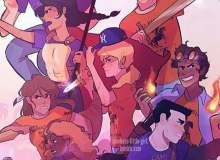 Hello! Do you really like Rick Riordan books? I do, too! Wanna know how much you really know about the books? Take this quiz! It may be inaccurate, but I hope you enjoy it anyways! :)
We love Rick Riordan! Please do not forget to comment and/or rate this quiz. (I mean, if not that is okay but I would really appreatiate it...) Thank you, enjoy my quiz fellow Rick Riordan fans!
Created by: Kimberly