How well do you know the Percy Jackson books? [really easy]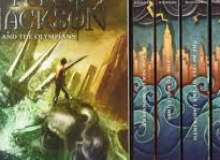 ARE YOU REALLY A FAN? OR DID YOU JUST WATCH THE MOVIES? the books make everything you know about mythology i'm willing to bet! if i asked you to name any mythological god or goddess before reading RICK RIORDAN, you wouldn't know!
"Hey, can I see that sword you were using?"I showed him Riptide, and explained how it turned from a pen into a sword just by uncapping it."Cool! Does it ever run out of ink?""Um, well, I don't actually write with it.""Are you really the son of Poseidon?""Well, yeah.""Can you surf really well, then?"I looked at Grover, who was trying hard not to laugh."Jeez, Nico," I said. "I've never really tried."He went on asking questions. Did I fight a lot with Thalia, since she was a daughter of Zeus? (I didn't answer that one.) If Annabeth's mother was Athena, the goddess of wisdom, then why didn't Annabeth know better than to fall off a cliff? (I tried not to strangle Nico for asking that one.) Was Annabeth my girlfriend? (At this point, I was ready to stick the kid in a meat-flavored sack and throw him to the wolves.)"