Guess the Splatoon character by Their Lines!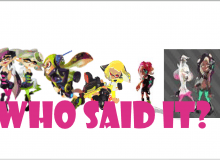 I was taking quizzes when I decided to do yet ANOTHER Splatoon quiz! Yep, you know what that means! Drum-roll please..... *Drum rolling* Wait for iiiiiit....
Yep! It's the Guess the Splatoon Character by Their Lines quiz! 😀 The Rules are as follows: For each question, you will read a line from Splatoon/Splatoon 2 (NA/EU version) and you'll have to pick the character that says it. Good Luck!