Do you know Draco Malfoy?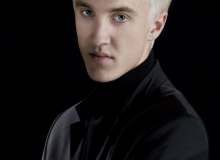 This quiz is all about the Draco Malfoy character. If you watched or read the Harry Potter books / films than you must try this quiz. In this quiz you will get to know Draco Malfoy or just test your Draco Lucius Malfoy knowledge.
Draco Lucius Malfoy is a student at Hogwarts in Harry Potter's year belonging in the Slytherin house. He is frequently accompanied by his two cronies, Vincent Crabbe and Gregory Goyle, who act as henchmen.
Created by: Severus Snape7