Are you Vampirina, Poppy, or Bridget?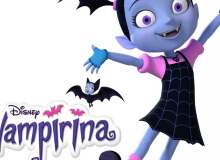 Hey! Vampirina again! This is(surprisingly) my first Vampirina quiz, and the VERY FIRST VAMPIRINA QUIZ ON GOTOQUIZ.COM!!!!!!!! Yay!!!!! This quiz is the first of many Vampirina quizzes from me, so take it!
Also, if you want to get a Super Shoutout, comment #introparareader in the comments of this quiz! It just bugs me when people DON'T read the introduction paragraphs.