Your warrior cats life, name, and position!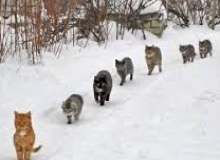 For those of you who are unaware of what warriors is, read on. Warriors is a series books featuring the warrior cats and their clans written by bestselling author Erin Hunter.
Now about the quiz. This quiz will ask you questions about your dream warrior cat and turn it into reality. I'm sorry if you don't get the cat you wanted, or the gender or position you wanted. (By the way there are two leaders in the draw) I hope you like it!
Created by: Ashley