Your Warrior Cat Love Story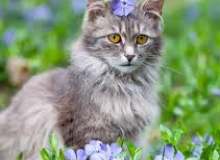 You are a small gray she, who has bright orange eyes. Your name is SeedFern You try to be the best cat you can be, and live your life happily, even after the death of your father. You always have tried to make everything at least okay, and have always been a straightforward and logical cat. You can also be optimistic at times.
I hope you will enjoy the quiz, keep in mind that this is NOT 100% accurate, and I do NOT mean to offend anyone. I apologize if this quiz offends you in anyway.
Created by: WarriorLover3