Wings of Fire Ultimate Quiz!!!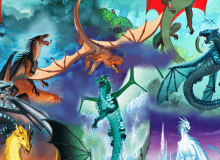 Test your knowledge of the Wings of Fire with is incredibly difficult Wings of Fire quiz to end all Wings of Fire quizzes! There are 30 very hard questions to tackle, and your result will be the official resting place of your Wings of Fire knowledge!
Become the smartest, most awesome dragon-lover ever with the hardest quiz ever made! But, that said, I am not trying to offend other WOF quiz makers. Try out some other Wings of Fire quizzes, too! Enjoy!