Wings of Fire: Shadows in the Sand Dragons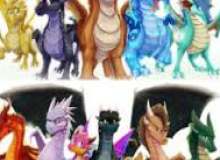 Hi there! SandStorm here! I have made a small book at my house called, "Shadows in the Sand". It is based off of the Wings of Fire books. If you don't like Wings of Fire BTW, LEAVE!
This quiz will be to see which dragon in the book you will be. Sorry for you guys that ARE guys, but there is only ONE boy in this one. If you all show enough support, I will DEFINITELY make a second one to this!