Wings of Fire Quiz (Books 1-13 + Legends Darkstalker)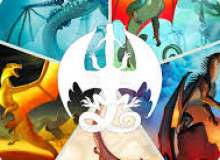 Wings of fire is the name of a very popular Book series about two continents mainly populated by dragons. There are seven tribes in the first continent called Pyrrhia. There is a second continent called Pantala that is home to three other tribes.
In this Quiz there will be 15 questions, one question per book in the title with an additional question (just for fun). This is the first quiz I made on this website, and I was inspired to make this by this quiz: How much do you know about Wings of Fire Jade Mountain? So please check that one out if you like this one, and that's basically it, enjoy!
Created by: Typhoon the Sea Wing