Which undertale character are really you?!?!?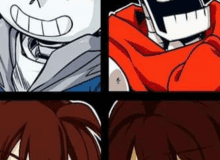 This is a quiz to see witch undertale character your more like to see if you like killing, making punny puns, making puzzles or like putting smile on people and monsters faces
Hope you can have fun with this, so just relax and pick your answers truthfully if you don't like the results go to someone else's quiz PLEASE DON'T HATE YOUR RESULTS!!
Created by: Angelkitty