Which Wings of Fire Tribe Are You?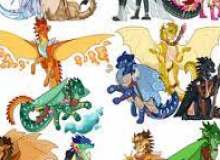 In this quiz you will find out which WoF tribe you belong to! Whether you belong to the SkyWings or the IceWings, you are a dragon either way! WARNING!This quiz is not completely accurate! It is based on what these dragons' traits are.
I personally love Wings of Fire. It is my go-to book to read. My favorite characters are Qibli and/or Bumblebee. If you liked the quiz, please check out my YouTube channel, Rolly The RainWing! My heart dragon (The dragon I'm most like) is Kinkajou!