Which the deep character are you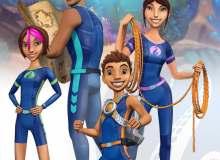 This quiz will say which the deep character are you?Based on a comic book created by Tom Taylor and James Brouwer, "The Deep" focuses on the Nekton family. The Nekton family are adventurous underwater explorers who live in a state-of-the-art submarine named the Aronnax. The family consists of Antaeus and Fontaine and their parents Will and Kaiko and they seek to unravel the mystery of the oceans depths. The family seek Lemuria, a lost city that they are trying to reclaim. With help from Nereus, their guardian, they seek to pursue the riddle that will take them to Lemuria.
Good luck on getting you favourite character!really love The Deep because its very interesting, cool and fun! I also love it because I love marine life. I definitely recommend to watch it!!!! Jeffrey is so cute and for a fish he's pretty smart. For those of you who haven't watched The Deep, if you watch it i'm sure it will end up being your favorite show!! (it is my absolute favorite show!) My favorite nights are the Mimic Night and the Jeffrey night because I love dolphins and because Jeffrey in his night is so adorable, but I like all of the nights. Definitely watch The Deep!!!!!!!!
Created by: Innogirlscrafts of Innogirlzcrafts YouTube channel
(your link here more info)