How Well Do You Know "Family Pets?"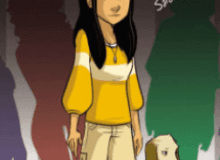 "Family Pets" is a comic book about animals and humans. You know the drill in these types of quizzes: Click (or write down) the correct answer. The more you get right, the more you know about the comic. Do you remember enough the comic to answer all the question correctly? Let's find out!
First off: Sorry, this quiz is long! Second: I sort of had some fine with playing around with shipping in some of the possible answers. Maybe you'll catch it!
Created by: Wolflover101