Which Steins;Gate girl is for you?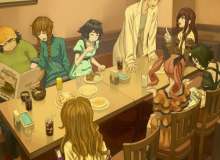 Steins;Gate is a science fiction visual novel video game developed by 5pb. and Nitroplus. It is the second game in the Science Adventure series, following Chaos;Head. The story follows a group of students as they discover and develop technology that gives them the means to change the past. The gameplay in Steins;Gate follows non-linear plot lines which offer branching scenarios with courses of interaction.
The player assumes the role of Okabe Rintaro, the protagonist of Steins;Gate. Okabe is an eccentric individual, a self-proclaimed mad scientist who often goes by the pseudonym Hououin Kyouma .Steins;Gate also contains a varied casting of girl (or girly) characters. Which of them should specifically attract your attention?
Created by: Neidhardt