Which Schuyler Sister from Hamilton are you?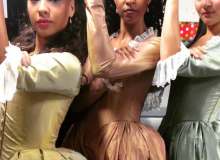 Everyone who's watched Hamilton knows about the Schuyler Sisters— Angelica, Eliza and Peggy (dressed respectively in pink, green and yellow), who play a big role in Hamilton's life.
So, would you like to know which Schuyler Sister you are? Helpless like Eliza? Never Satisfied like Angelica? Or maybe you are like Peggy? Take this quiz for fun to find out!
Created by: shadowjade