Which Penderwick Sister Are You?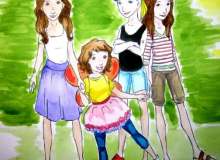 Hi! Welcome to my quiz. I'll bet that you have always wondered which of the infamous Penderwick sisters you are. In just 12 questions I can figure it out!
Are you clever Skye? Responsible Rosalind? Creative Jane? Or shy little Batty? Take this wonderful, accurate and entertaining quiz to discover the true Penderwick sister hidden inside you. Enjoy!
Created by: JanePenderwick