Which of The Oustiders is Your Boyfriend?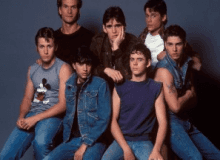 If you have read the heart-gripping book, The Outsiders, by S.E. Hinton, you know what it's like to have the words on a page reaching for you. In this quiz, you will find out which soulful character is your rightful true love.
Each character has their own thoughts, personalities, and feelings that the 16-year-old girl brings to life within our minds. Find out which complex character would be right for you in this quiz.
Created by: Heaven Taylor