Which of My made Up Warrior Cats Are You?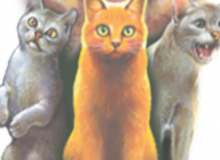 These cats are all of MY made up warrior cats. The cats are all kitties from thunderclan. There are six cats that are there to be. please do not take the cats name or story though.
All of the cats are one of each rank: leader deputy warrior med cat queen and elde.hope you like these warrior cats! have fun taking the quiz! not to brag but, i think it is purrfect!
Created by: Lizzie Nowell