Which of my FANTASY sisters are you besties with?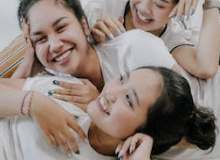 So I created my dream sisters. Not in full detail, but just enough for you to understand them. Who are you most likely to get along with the most? Will it be Elisa, or Arianna, or maybe Dominique? Don't worry there's more… :)
'Are you ready for it?' Taylor Swift - 'Take me on a ride' Alan Walker - 'Mommy don't know' Sam Smith - 'Hmm, Whatcha say' Jason Derulo - please just start the quiz please.