Which Mha Villain Likes You?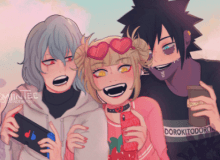 Sheeesshh. I Hope You Will Enjoy This Quiz. Idk Why The Title Thumbnail Is All Pop, But, It Was The Best Image I Can Find On Google XD. I Hope You Guys Are Having A Nice Day.
Please Make Sure To Rate, Share, And Comment! I'm Trying To Get To Advanced Or At Least Senior. It Would Help Out A Lot! Don't Forget That You Are Awesome! And Have A Great Day!
Created by: Horror Lives 2 of Which Mha Villain Likes You?
(your link here more info)