Which Member Of The Dream SMP Are You?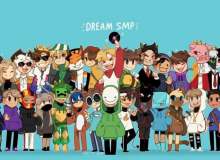 Have you always wondered what Dream SMP member you are? Well this is the quiz for you! You will be quizzed and then you will find out are you ready???
Please be aware this quiz is just for fun please do not come at me for not having accurate answers. All fan art belongs to it's original owners. Please just have fun! Hope you enjoy the quiz! Disclaimer: if information isn't accurate or your answer isn't accurate I'm sorry I just made this quiz for fun even though I'm a fan of the DSMP I am not an expert.
Created by: sesroh_