Which Karasuno Character Are You?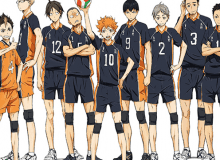 The school's Boys' Volleyball Club was founded many years ago and has often been associated with crows due to the school's name. Its banner, in fact, reads "Take to the Skies," which alludes to crows. It was said that Coach Ukai had a ferocious pack of crows during Karasuno's glory days.
The main starting line-up is composed of Daichi Sawamura, Asahi Azumane, Ryūnosuke Tanaka, Yū Nishinoya, Shōyō Hinata, Tobio Kageyama, and Kei Tsukishima. Karasuno is currently famous for its odd quick strike (performed by Kageyama and Hinata) and its unique members: Kitagawa Daiichi Junior High's "King of the Court," Kageyama; Chidoriyama's champion libero, Nishinoya; and the 164cm-tall middle blocker, Hinata. So who are you?