Which Gorillaz member is your soulmate?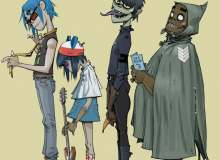 ⚠I DO NOT OWN GORILLIAZ OR ANY OF THE BAND MEMBERS⚠ Hello! This is a 10 questioned quiz that will determine which Gorillaz member you would probably date if put into Kong. The results only insist of 2D, Murdoc, Noodle and Russel.
When you take the quiz, please note this is the first quiz I've ever created and/or done. So my greatest apologizes if something is problematic in it.